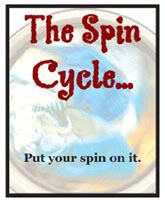 This is a story about a man and his flashlight.
When I was growing up, my father's flashlight was legendary. Every night he put the house to bed, turning out the lights and locking the doors. Then he would switch on his flashlight to check on me and my sister.
Mostly we were asleep, but I have memories of lying there, with my eyes squinted shut in the darkness, as the beam of his flashlight played across the room. It made us feel secure and loved; nothing could go wrong while my father was on duty.
For a time, my sister and I shared a room with bunk beds. One night I tossed my prized stuffed doll up at her on the top bunk. As she dangled it back down the side at me, we both pulled on it and an arm tore off.
I was devastated. I lay there, forcing my eyes to stay open, waiting for my father to make his rounds and check on us before he went to bed. Finally the door knob turned and the light hit me, awake in my bunk. In tears, I held out the doll and its amputated limb.
My mother had that arm reattached by the time I woke up the next morning.
One of our holiday traditions, and one that I've continued with my own kids, was for my father to read us The Night Before Christmas every Christmas Eve. Except that he did it by flashlight, while we lay in bed in the dark. He did the same thing the night before Easter, with our big book Here Comes Peter Cottontail.
He was the parent in charge of bad dreams. When I awoke, trembling, and called out, my father would appear, his flashlight lighting the way. He never seemed tired or impatient as he sat on the bed, talking to me in the flickering darkness until I felt safe enough to go back to sleep. It was a side of him I seldom saw during daylight hours.
Me, I don't use flashlights very often. I have a couple around for blackouts, yet I'm more of a feel-my-way-around-in-the-dark-kind of girl.
But when Daughter #2 and I were down in Florida staying with my parents last year, and I saw my father still using one every night as he closes up the house, the memories came flooding back. My daughter did not understand how I could be sentimental over a flashlight.
But I knew, without a doubt, that I would sleep safe and sound the whole time I was there.
Now go on over to Sprite's Keeper to check out some other Spins on Tradition.