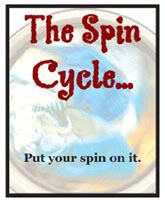 Let me preface this by saying that I have, on occasion, sent out holiday newsletters and I may again some day in the far off future. I receive a couple each year and I'm always eager to find out what people are up to. But let's face it, some newsletters read more like an ostentatious listing of Can You Top This rather than a warm friendly note of catch-up.
This then, is my tongue-in-cheek version of how one such holiday newsletter might read. I know none of you would EVER send out anything even remotely like this...
To all our wonderful friends and family,
Can you believe another year has rolled by? If not for the photos of little Chloe's Yale graduation (magna cum laude of course,) and the new addition to our summer "cottage" finally being complete (see photos on other side), it wouldn't seem possible.
In this time of financial hardship for so many, we're blessed that Tim has received not one but two promotions. His Christmas bonus will just about cover next year's college tuition for the twins. Hughie, that little braniac, got into Harvard and is cruising toward clinching class valedictorian. But poor Louie is another story. He was wait-listed at Princeton and it looks like he may have to settle for either Brown or Columbia.
Baby Stewie is now president of his middle school class and captain of both his soccer and basketball teams, as well as first chair cello in the orchestra. He's raising funds for a class trip to Every-Country-in-Europe and he'd really appreciate it if you could purchase some candy or wrapping paper to show him you care (brochure enclosed).
Tim's work keeps him so busy that he's only been able to compete in three triathlons this year. His new BMW is small consolation. And Peg is her usual hectic self, running the PTA and the Junior League. But she still manages to volunteer at the hospital AND do her weekly Meals-on-Wheels deliveries. Her new organic beauty-care product-line has been a huge success (website below). You should definitely check it out!
Well, we hope everyone's had a terrific year. We're sorry we didn't get a chance to see you all, but with our Family Volunteer Vacation to rebuild New Orleans in February, and our two short weeks cruising the Virgin Islands in April, time just seems to fly by. Maybe next year...
If you're ever up this way please give us a call. Barring scheduling conflicts, we can meet for coffee or brunch at your hotel. Or maybe a drink at the airport before you leave. That will give us a chance to really catch you up on our lives!
Sincerely, The Mimi-Mee Family
For more heartfelt and less jaded Spins on holiday newsletters, check out Sprite's Keeper.