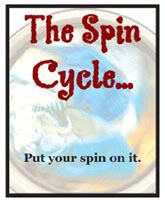 I am not a fearful person.
Sure, there are things I don't like, such as heights, slasher movies, and stories about real life serial killers. But fear? Not so much.
When I was a young nurse working on pediatrics, one of my colleagues commented that she was afraid of dying.
I'd thought about this one a lot. "I don't really fear dying," I said, with the naive self assuredness that one can only possess in his or her 20's. "I mean, I don't want to die. But I''m not afraid of it."
To her credit, she did not slap me. "That's because you don't have kids," she said kindly. "Being a mother changes that."
"Maybe." I shrugged.
Maybe?
My son was probably only hours old when my fear of dying set in. If I died, who would raise him in the manner that I so carefully envisioned?
I felt a little better when I gave him a sibling, but I now had two souls whose very existence hinged on me being alive and well. And then, soon enough, three.
It's not as though it's some neurotic phobia. Rarely, if ever, does it creep into the forefront of my mind.
Yet somewhere in the dark recesses of my brain, it's always there: I must stay alive at least long enough to see these three people into the realm of independent adulthood. Anything less would leave them vulnerable, exposed to emotional and psychological scars that might never heal.
Am I blowing this out of proportion to increase my own sense of importance? Possibly.
But it has always seemed to me that the loss of one's mother, before a certain age, is one that few recover from completely.
When Princess Diana died, I felt this pain for her as well as her sons. I was reassured that they were old enough to have lifelong memories of her, but felt she would've been devastated not to be there for the joys and pain of their teen years, and to cushion the angst of their early adulthood.
I'm sure I was internalizing big time.
So what is the magic age, the one my children need to reach before I'll feel comfortable giving up this fear? Well, at 22, I feel First-Born Son may be close. But Daughter #2 is only 15.
Believe me, I'm not about to stand up, arms wide open, beckoning the Grim Reaper, the day she turns 25. I fully intend to live to a good and annoyingly ripe old age.
And yes, I'm aware my grown children will never stop needing me in one way or another. But the major leg work, so to speak, will be complete. And, I think, I'll finally be able to let go of my fear.
To see what other bloggers fear-or not-go take a peek at Sprite's Keeper.