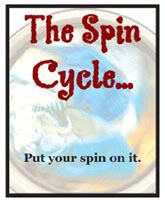 Even the thought of Spring Cleaning leaves me a little nauseous.
Especially as I look out my windows and see ice and snow. Right now spring seems a cruel joke, tantalizing, dangling far off in the distance, never to arrive.
To understand my memories of Spring Cleaning, you must know that my mother is a neat-freak. I don't mean that in any derogatory way; it's simply a fact.
When I was growing up, the kitchen floor was scrubbed at least once a week. She dusted and vacuumed daily, and sheets were changed on a weekly basis. You don't want to know how frequently the sheets in my house are changed.
Spring Cleaning for my mother seemed to be a religious experience. Storm doors and windows were stored away and every window pane scrubbed inside and out.
There was the official changing of the fall/winter curtains, draperies, and all bedspreads to the spring/summer variety.
Winter woolens were packed away in the attic in moth balls and exchanged for fair-weather cottons. Drawers and closets were purged and re-organized in the process, and my sister and I endured the torturous process of trying on Every Article Of Clothing to be sure it fit.
My father took time off work each year to polish the furniture. And I mean polish the furniture. We would come home from school to the overpowering chemical aroma of polish, and there he would be, sleeves rolled up, kneeling by the credenza or dining room table, chairs on their sides as he manhandled their surfaces to the kind of lustrous shine my own neglected furniture has no idea even exists.
I'm sure the house sparkled from top to bottom when she was through. But I'm also sure that satisfaction was short lived. The dust will gather, the windows will streak. Hands and feet never fail to leave their mark.
I have done little to carry  on my mother's tradition of Spring Cleaning. I do have seasonal bedding, and of course I store sweaters, pull out summer clothes.
But my real Spring Cleaning takes place outside. Clearing the gardens, cutting back the lavender and roses, breaking out the dahlia tubers. The deck will need re-finishing before we can drag out the wicker deck furniture, and the pool fence repaired from the ravages of winter.
My house is rarely messy, but my standards are nowhere near my mother's. Maybe it's a different generation but mostly, for me, it's a matter of choice.
If the very notion of Spring Cleaning leaves me nauseous and tense, it's better left behind with the old-time furniture polish, lost somewhere in my very distant past.
For some other takes on Spring Cleaning, go visit the always sparkling Sprite's Keeper.