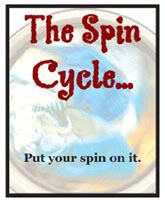 I really hate to admit this, but I love my cell phone. In fact, I'd hate to think of life without it.
Oh, I'm sure I'd get by. After all, it took me long enough to break down and get the damned thing, so I know I could do without it if I had to.
But I don't want to.
I got my first cell phone when First-Born Son was in middle school. Suddenly he was going places and we needed to reach one another when neither of us was at home.
For my kids and their cell phones it may have been love at first sight, but it's only the last two or three years that I've felt this way. And that has everything to do with texting.
Texting is like magic. It really is. If I try and call my college-aged kids, it's a crapshoot whether or not they'll answer their phones. I understand. Life is busy. They're in a class or a bar (I kid!) or otherwise indisposed.
But, usually, they can text. And it's never long before I get a reply. It's an amazing way to keep in touch.
My kids will text me at the nicest times. To wish me a happy Valentine's Day. Or a happy New Year at midnight. To tell me they just saw a great movie. Or need money (okay, I admit it; it's not all fun and games, but it's pretty darned close).
Here's a good one. A while back, Daughter #2 and I went to a movie and the film was out of focus. Not so much that we couldn't watch it, but just enough to drive us crazy.
I don't know about the real world, but here on Martha's Vineyard this is not an uncommon occurrence. Somebody usually gets up to inform the management and within minutes the problem is solved.
But this was a weeknight, and there were only about 20 people in the theater. Twenty lazy people, myself included.
It was driving Daughter #2 bonkers, although apparently not enough to get up and do anything about it.
"I'm texting First-Born Son," she finally said, pulling out her cell phone. 
"Why?" I asked. First-Born Son was in Manhattan, miles away. What could he do?
Then I realized. The kid in charge of the theater that night was First-Born Son's good pal. My daughter was texting her brother to text this friend, who was no doubt a mere 50 feet away from us in the lobby at that very moment, so that he would go and fix the focus.
Which he did, in less than two minutes time. Done, First-Born Son texted back to Daughter #2.
But of course, by then, we already knew.
Has technology changed anything about your life in a significant way?
For more Spins about the things we can't live without, visit Sprite's Keeper.