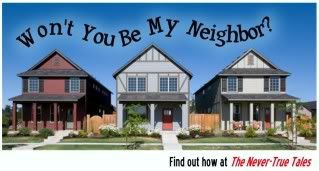 Today I'm guest-posting over at Motherese. It's part of the Won't You Be My Neighbor series started at The Never True Tales a while back.
Please click on over and say hi. I can almost promise you'll be glad you did. Aw hell, I do promise. And leave me a comment too. Because that'll make me really happy.
I'm going to Manhattan this weekend. In the snow. To visit my son and meet the new girlfriend. Hopefully, that'll make me really happy too.
Have a great weekend, everyone!