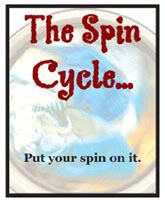 A friend of mine recently told me that she thought figure skating was a sport, but she did not consider it a form of art.
I disagree. I think it's both.
But of course then I got to thinking. Is it even possible for something to fall under the categories of both art and sport?
When my kids were growing up I naturally steered them towards the arts, my own comfort zone. But I also had the rule that they had to participate in something physical each week as well: swimming, soccer, gymnastics, whatever.
I didn't have the energy or inclination to be a rabid sports mom, so I made yet another rule, that they were generally only allowed to sign up for one sport a season. There were three of them, after all.
Their genes, like mine, tend toward the artsy so this was never a problem. In fact, Daughter #1 didn't dig the sports scene at all. But her dance classes satisfied my physical activity rule, so all was well. 
Now, some would scoff that I'd consider dance an acceptable substitute for sports. But dancers are some of the most in-shape people I know. Who would argue with the fact that ballerinas are amazing athletes?
We don't, however, call ballet a sport. It's definitely an art.
Yet the question remains: ballet, figure skating, can something be both?
And what, really, is the definition of art? That which is created, original? Something that moves us or makes us feel in some way?
One definition I found says art is the quality, production, expression, or realm, according to aesthetic principles, of what is beautiful, appealing, or of more than ordinary significance.
Well, that sure clears that up, huh?
Certainly no one would call it art if I was to lace up a pair of skates and hit the ice.
But I was incredibly moved by several of this year's Olympic ice skating performances. Poetry in motion.
I don't know if there's a right or a wrong answer to this question. Can a sport ever be an art? Or vice versa?
What do you think?
For more Spins on sports, head over to Sprite's Keeper. Sprint!