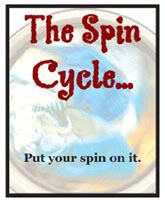 People judge by appearances. No matter how hard we try not to, we all do it.
Of course it follows then, that we're judged by our own appearance.
There are aspects of this we have some control over. I can carefully decide what to wear to a job interview or a teacher conference, hoping to create a certain impression.
But much of it is clearly open to other people's translation.
I've been accused of being a snob a time or two (secondhand, to be sure) by people who didn't know me but were interpreting the fact that I can be very shy and quiet when I first meet someone.
This bothered me a lot the first time I heard it in college, with the result being I decided I needed to smile more. Not that that's a bad thing, but now I'd be more inclined to think that the snob comment says more about the person making it than it does about me.
People have also been known to parlay my red hair and freckled appearance into the assumption that I am naive and innocent. Of course, that one is entirely true.
In this virtual world we make all kinds of assumptions about our bloggy buds, and very little of this is based on actual appearance. Which is kind of cool.
Many moons ago when I was about eight months pregnant with First-Born Son, I had a run-in with a first-year resident on the night shift. He called from the ER wanting us to do a workup on a baby (spinal tap, blood work, etc) up on the pediatric unit instead of down in the ER where it was supposed to be done.
I was the charge nurse and I had to tell him no way. It was a crazy night and we didn't have the staff to sacrifice a nurse for the hour or more such a workup would take.
I'd never met this guy, but we argued back and forth in a way that typically does not occur. He obviously had not yet accepted the fact that nurses rule the hospital world. But, having policy and protocol behind me, I won this round.
Later, after the workup when the baby was finally admitted to the floor, he came bellowing down the hall.
"Who's Maureen?" he demanded. "I want to see Maureen."
I stood up and held out my hand, smiling sweetly. "Right here."
He fumbled for words, clearly taken aback. If he hadn't have been such a super-idiot on the phone previously I might even have felt sorry for him.
Here he was expecting to see a crazy bitch on wheels, and instead who does he meet but some pregnant Pollyanna in her very adorable maternity top complete with Peter Pan collar. I may have been 26, but I probably looked about 18.
"Ummm, yes." He shook my hand, very wisely deciding to eat his words. "Nice to meet you."
I never had any problem with him again.
To read other Spins on appearance, go visit Sprite's Keeper. You can be pretty sure that with Jen, what you read is what you get.