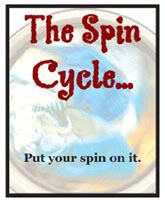 For this week's Spin Cycle Jen is assigning topics randomly or upon request. She's a little wild and crazy that way. When you're done here go see what she's thrown at other bloggers. She hit me with Happiness and for a couple of days I was truly stumped.
Happiness is such an arbitrary and often elusive concept. We're all so sure we'll finally be happy if we just reach some magic place in our lives: get married, have 2.3 babies, buy that house, get that promotion, lose 10 pounds.
And then, when it happens, we wonder why our life hasn't suddenly transformed into the last five minutes of a Disney movie.
It seems the older I get the happier I am. I've noticed it tends to be the little things that lead me there as I go about my life each day. Tiny moments of grace.
Right now, one of our five cats, Checkers, is very sick. I'm pretty sure he's not going to make it. 
We adopted Checkers, and his sister Lula Bell, 12 years ago this month. In large part they were a consolation prize for my kids, First-Born Son especially, having to give up a dog that, even after months and months, was truly not working out.
My marriage had just ended and my guilt was enormous. First their father, now the dog; what additional torture could I force my children to endure?
We already had two cats so we only wanted one kitten. But of course there were the two littermates, inseparable we were told. Irresistable. We took them both.
And they are inseparable. Checkers and Lulu can be found daily in a heart-shaped heap on my bed, meticulously grooming one another before drifting off together to sleep. I't hard to tell where one little body ends and the next begins.
The kids and I call Checkers "a tool." You can throw a towel over his head and he will  not move. Wrap him across your shoulders and wear him around the house. Yet the term is coined with great affection. He may be a tool, but he is our tool.
He's had a good life, Checkers has. Better than most people's. If this is his time to go, I tell my kids, then that's okay. Death is a part of life (cue violins). We've been lucky to have him. Blah, blah blah.
But I mean it. My cats are one of the things that bring me joy. Every day.
Maybe I'm getting simple-minded in my middle age. Maybe it's a pitiful shame that I'm so easily pleased. But I don't think so. Either way, I'll take it.
Tiny moments of grace. The key to happiness, mine, anyway. And whether Checkers makes it through this next week or not, I'll never be able to think of him without a smile on my face.
Thanks to a gentle nudge from Linda, I've recently updated my blog roll. I know, some bloggers could care less, while others are highly insulted if their name doesn't appear where they think it should. I couldn't believe how many wonderful bloggy buds I'd left off, and I'm afraid there may be more. So if you think you might be one of them, please let me know.