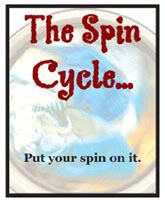 We get to post an original poem for this week's Spin Cycle, and I chose one of mine that I think speaks to this midway point I find myself at, both in mothering and in life.
Without Them
I count on so much:
Wiping away tears when you take your vows,
unable to vanquish your chocolate-stained
two-and-a-half year-old face from my brain.
Watching you hold your newborn,
enlightenment dawning in your exhausted eyes.
You visiting me, old and ancient enough
for you to spoon pudding into my mouth
as we sit and watch movies, arms touching
till I nod off.
My love for you is the standard
by which all emotions are sifted, measured;
it appears I could not live without it.
And while that might be an illusion,
surely without you it would not be life.
It would be something long and treacherous.
A winding mountain road in a blizzard,
to be endured, slogged through,
knowing that windshield wipers are useless
and headlights will never allow more than
a few feet of visibility-
not nearly enough to show clearly that what comes next
may not always be more of the same.

For more Poetry Spins please go visit Sprite's Keeper.