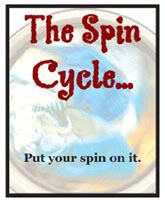 Jen of Sprite's Keeper very generously took the time to organize this Secret Cyber Santa Spin (say THAT five times fast). From a list of our favorite bloggers, she waved her magic wand and assigned us one lovely blogger on whom we were to post.
I get to rave about The South Dakota Cowgirl, Jen, one of my all time most fascinating bloggy buds.
I was first attracted to Jen's blog because her world is so completely different than my own. Originally from Texas, she rides horses in barrel events and lives on a huge cattle ranch in South Dakota.
Her days are filled with riding and training horses and helping her cowboy, Zach, with multiple ranch related activities, from herding and preg-checking cattle to rescuing horses stuck on wire fences.
It's clear from her posts that she's an awesome cook, but her creativity doesn't end there. Among her many talents, she makes gorgeous jewelry, plays piano and guitar, sings, and even writes her own songs. Her voice is lovely and definitely worth a listen.
I can't imagine what it's like to live on acres and acres populated with deer, antelope, rattlesnakes, jackrabbits and prairie dogs, but Jen's spectacular photographs and video give me some idea.
I may have originally followed SDCG out of curiosity, but I've stayed because of the sincere and generous person she is.
Like all of us, Jen has been through a lot, and I don't mean just upending her life in Texas to move to South Dakota. Her heartfelt writing reveals a woman who is courageous and adventurous, playful and stubborn, and very much devoted to her friends and family.
If you don't already follow SDCG, you should make a point to click on over there and take a look around.
One thing I didn't plan on when I started this whole blogging thing last May, was the extent to which I would develop actual relationships, however virtual, with fellow bloggers. Jen may be much younger than I, and our lives as different as night and day, but through her words I sense a kindred spirit.
She has been a fun and loyal cyber friend, and I truly hope she goes on sharing her world with us for a long, long time.
Jen may not know this, but it's entirely possible one day I just might show up at her door, ask her to throw me on a horse, and have her give me a personal tour of the ranch. I get the feeling we'll have a lot to talk about.
For more Cyber Santa Spins, go call on Sprite's Keeper. And give her a big holiday hug from me.