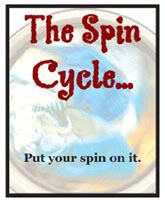 Anyone who's read this blog for any length of time can figure out I have a pretty amicable relationship with my kids' father, otherwise known as The Ex.
The kids were only 3, 6, and 10 when we split, and I couldn't bear the thought of dividing up the holidays or them having two separate birthday parties every year. So I sucked it up and tried to keep things civil.
Make no mistake, I'd heard all the horror stories regarding divorce. Bills that never got paid, custody nightmares, support payments that never arrived. For years it seemed, part of me stayed on the alert, waiting for the proverbial other shoe to drop. Yet it never did and somehow, as time went by, The Ex and I managed to become friends.
Things were still on a little shakier ground, however, that first Father's Day after the marriage ended. I was in the middle of trying to adopt a new cat for the kids and it turned out we had to act that weekend or someone else was going to get the very same kitten I thought we wanted.
Overwhelmed at the thought of doing this with all three kids on my own, I asked The Ex if he would mind spending his Father's Day helping out. He was willing, and the afternoon turned into one long kitty odyssey, checking out various potential pets, and ending with all five of us back at the house eating dinner as we watched our two new kittens, Checkers and Lulu, pounce on one another again and again before finally curling up into one endless fur-ball and drifting off to sleep.
So it was fitting this past Father's Day, last Sunday, that we were all together once more when we buried Checkers, out in a shady section of woods in the yard, back beyond the pool. It was like the day we adopted him and his sister, just the five of us. Me, Daughters #1 and 2, First-Born Son, and The Ex.
He dug the hole. Built the wooden box we laid Checkers in, and, on Daughter #1's request, burned Checker's name into the top. Again, maybe not the best way to spend one's Father's Day, but we were glad he was there.
The marriage may not have been built to last, but the family, apparently, was.
For more Father's Day Spins, head on over to Sprite's Keeper.